The blue economy refers to a sustainable economic approach focused on the oceans and seas as fundamental resources for economic development and environmental conservation. These immense bodies of water are considered drivers of the economy thanks to their huge potential for innovation and global growth. Sea and ocean water, in addition to sustaining life, also enable the connection of people and goods.
Logistics plays an important role in the blue economy as many of the freight forwarding operations are carried out by sea transport on container ships. Which characteristics link this type of sustainability and international logistics?
Sustainable maritime transport: Maritime logistics are essential for transporting products, raw materials and goods across oceans and seas. Guaranteeing the efficiency and sustainability of these operations is fundamental to the blue economy. Logistics helps optimize routes, reduce emissions, and minimize the environmental impact of shipping.
Protecting the marine environment: The logistics sector has an essential role to play in protecting the marine environment by guaranteeing that transport on container ships is carried out responsibly and sustainably. This includes proper waste management, prevention of oil spills and regulating shipping to avoid damage to marine ecosystems.
Research and development of sustainable technologies: Logistics companies must invest in R&D to implement clean, renewable, and sustainable technologies in favour of the blue economy. This includes optimizing port operations and improving the energy efficiency of ships.
Job creation: The sustainability provided by the blue economy must go hand in hand with care for the planet but also with the creation and improvement of jobs linked to maritime transport and international logistics.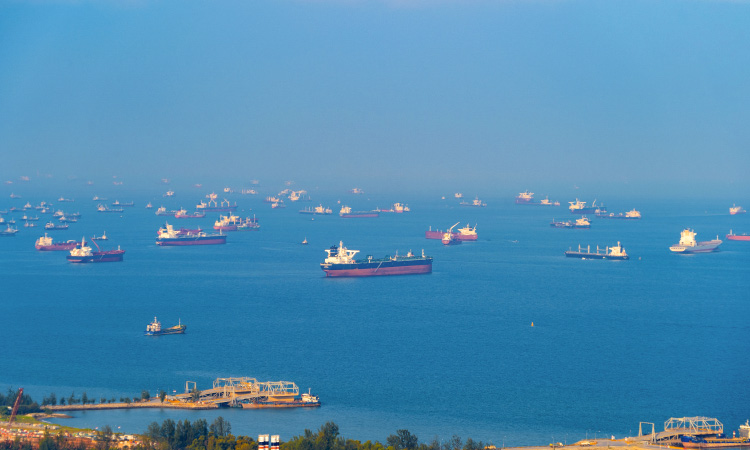 The challenges of the blue economy
It is important to effectively manage and understand the various aspects of ocean sustainability, ranging from sustainable fisheries to ecosystem health and pollution. Initiators of the blue economy concept such as the entrepreneur Gunter Pauli argue that this type of approach is linked to concepts such as regeneration, ecosystem, symbiosis, abundance, and autonomy.
Organizations such as the United Nations (UN) take the blue economy very much into account. Other superstructures such as the European Union (EU) even have a Blue Economy Observatory. At Airpharm we are aware of the importance of sustainability in all our maritime freight forwarding operations and we are committed to implementing the blue economy in our exports and imports.
If you would like to send your pharmaceutical, veterinary, cosmetic, fine chemicals, health, or food supplements by container ship to any port in the world efficiently, quickly, and sustainably, contact Airpharm now.